History + Modern Bride + Bouquets ii
The custom of enhancing the wedding ceremony with flowers dates from ancient times, but the wide selection of bridal bouquets now available has only been a relatively recent development. The popularity of each has waxed and waned through the past few decades, each evolving special variations over time.
Composite-flower Bouquet Almost forgotten, the composite-flower bouquet dates from the early 20th century. Unable to source the wide range of colours and year-round availability found in today's hybrid roses, florists used this ingenious method of constructing huge 'roses' from the petals of gladioli. Then called 'glameria', these oversized blooms were worn by themselves on a hat or as a corsage, or several could be fashioned into a bouquet for the bride with an unlimited budget. Although featured recently in the pages of Vogue magazine, this specialized and time-consuming technique may unfortunately never regain its former popularity.
Fan The fan enjoyed a fleeting popularity in the late eighties. Lacy plastic fans were embellished with carnations, baby's breath and plenty of tizzy ribbon. Around the same time some unfortunate brides, possibly badly affected by frizzing and teasing their hair once too many, choose to carry flower-filled baskets. The sight of what appeared to be an overgrown flower girl walking down the aisle confused the wedding guests who must have been traumatized by the sight of the groom in his pale pink tux! While we may still be trying to forget and move on, it doesn't take a great leap of faith to imagine a bevy of bridesmaids carrying elegant bamboo fans embellished with jewel-coloured orchids and rich, two-tone ribbon. Perhaps the fan is due for a revival as well?
Crescent Bouquet A crescent bouquet may be suitable for the bride who wants a small, unusual bouquet with more structure than a posy. It's perfect for complementing a slim waist and hips, as it has a dainty, curved line. It has never reached dizzy heights of popularity so it will not date your photos. A word of caution: beware which flowers you choose! This look can easily become 80s with the wrong flowers or if it is too large from side to side.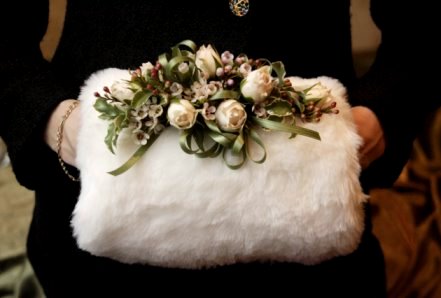 Muff The muff is for the very individual bride. Far more popular in Europe, where it was borne centuries ago out of necessity, a bridal muff is an unusual, yet perfect choice for a winter wedding. It can be made by your dressmaker, then embellished with flowers. Mix it up and have fun - you haven chosen a muff after all! :)
Happy Planning!
Visit us at A Music City Event or call 615.727.3903
Never miss another update!
Subscribe to MCE Blog to have new tips, advice and Real Nashville Weddings sent directly to you.
And no, we never ever ever share your e-mail with anyone. Period